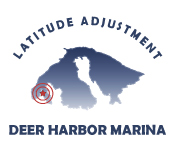 Hail the marina using VHF channel 78A when the marina is in view.
POLICY
Our cancellation policy is 24 hrs. Notice prior to date of arrival. (Call us by noon the day prior to your arrival date to avoid getting charged for one day). Moorage Fee (call the marina office). Included with your fee: 30 AMP power, water, garbage, recycle, pump out, free Wi-Fi, and use of the pool.
MARINA STORE AND GRILL
Open 7:00 am to 7:00pm daily summers and 8am to 5 pm daily for the remainder of the year. The store carries groceries, espresso, ice cream, prepared food, beer, wine, soft drinks, ice, bait, and some produce. The Grill serves quick breakfast and lunches.
THE BARGE
The Barge Gift Shop stocks sweatshirts, hats, sunglasses, jackets, books, maps, postcards, toys and fishing gear. The Barge also houses the offices for Deer Harbor Charters, Shearwater Kayak and Orcas Boat Rentals.
FUEL DOCK
Offers diesel and unleaded. Open same hours as the marina store hours. Oil products are available in the store. Water and pump out station are located on the fuel dock. There is a fee for pump out use if not staying with us.
WATER
Water is in short supply so please help with conservation measures. Run water a maximum of 5 minutes while filling your tanks for removing salt from boat windows, please use a bucket and sponge.
SHOWERS AND LAUNDRY
Facilities are located on the main dock. The showers and bathrooms are open 24 hours a day. The laundry facility is open during store hours daily. Showers and laundry machines use tokens which may be purchased at the Marina Store or The Barge for $2.00 each. The store also carries detergent, bleach and dryer additives.
THE POOL
For pool hours please check with the Marina office. All children under 12 years of age must be accompanied by parents or adults over 21 years of age. The pool is across the street and heated.
Their schedule can be found at www.orcasislandshuttle.com.
It is often less costly to rent a car than using the shuttle depending on the number of people in your group.
DEER HARBOR
MARINA
VHF Channel 78a
5164 Deer Harbor Rd.
Deer Harbor, WA 98243
PHONE: (360)376-3037
VHF Channel 78a